---
Serial Interface kit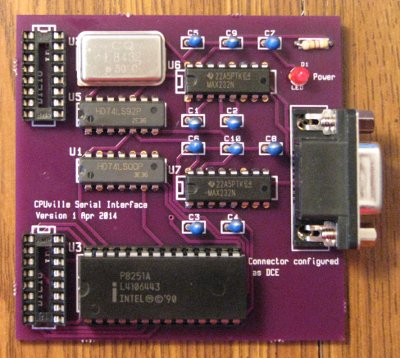 Circuit board only: $8.00
Full kit: $37.00
Full kit, assembled and tested: $62.00
This is a serial interface kit that allows the original Z80 computer to communicate with a PC running terminal emulation software or with a dumb terminal if you have one. The interface runs at 9600 baud. To be useful, you should have a version 7 or higher EPROM to take full advantage of the new code that is there, including a monitor program. However, you can use the serial interface with EPROMs version 6 and lower, by entering a 30-byte boot loader program through the port switches.
The best way to understand what the serial interface will do is to read the serial interface kit instructions and look at the serial interface demonstration videos.
An optional EPROM with Palo Alto Tiny BASIC is available for use with the computer with the serial interface attached. The Tiny BASIC manual is here.
---